Rainbow Dreams – Sold by the half metre
£9.25
Designed by: Tanya Tillack
95% GOTS Certified Cotton 5% elastane
220GSM (grams per square metre)
155cm width
ALL FABRIC IS  SOLD BY THE HALF METRE. IF YOU WOULD LIKE 1M PLEASE ADD QUANTITY OF 2 TO YOUR CART. ALL FABRIC WILL BE CUT AS A CONTINUOUS LENGTH.
Quantity to add to cart for number of metres guide:
1   :  0.5m
2   :  1m
3   :  1.5m
4   :  2m
5   :  2.5m
6   :  3m
In stock
---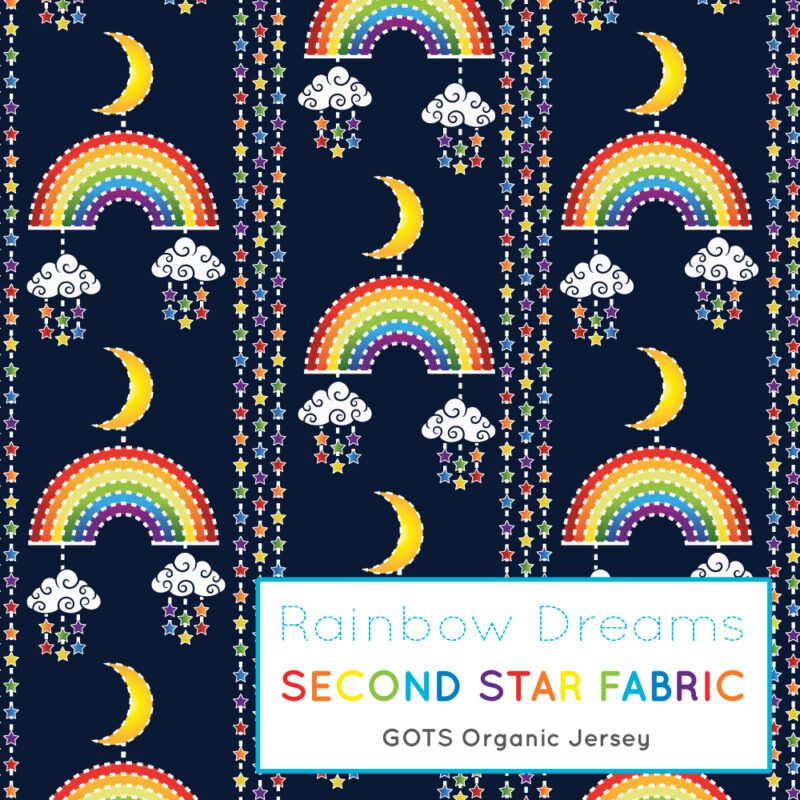 Rainbow Dreams - Sold by the half metre
£

9.25
Rainbows moon & stars jersey fabric, rainbow coloured mobiles on a navy background digitally printed on organic 4 way stretch fabric
Designed by: Tanya Tillack
95% GOTS Certified Cotton 5% elastane
220GSM (grams per square metre)
155cm width
Rainbow Dreams is a beautiful organic cotton elastane jersey fabric, pair it with Dream Stars for a stunning combination.
Match with our Solid colours GOTS Organic RIB and JERSEY to use for co ordinating cuffs and bands etc.
Cotton elastane jersey fabric is perfect for making clothing for all ages. The stretchiness and softness makes it brilliant for baby clothing and for those with sensitive skin. It's also the perfect fabric for leggings, pants, dresses and t-shirts.
GOTS certified organic cotton means that the entire process of manufacturing is ethical and sustainable and all parts of the process have to adhere to strict standards from the farming of the cotton itself including the social implications, worker's rights and conditions, right through to final printing process. All dyes and inks are strictly regulated to ensure biodegradability and that no harmful substances are used. To read more about the GOTS certification process you can visit the information page https://www.global-standard.org/the-standard/general-description.html
Join our Facebook group to see beautiful creations from our awesome customers, and post your makes to inspire others. Each month someone wins £10 to spend in our shop by sharing their Second Star make in our Facebook group or by tagging us in their Second Star make on Instagram. Please share your creations to be in with the chance of winning, we'd love to see what you make 😁