CREATE HAPPY 🙂
Second Star Fabric was founded in 2015 out of a need for colourful jersey knit fabric in the UK. Our aim was to provide our customers with unique designs that allow them to sew beautiful, one-off creations for their children and themselves. Since our humble start, we've expanded our customer base to clothing maker businesses and retailers as well as shipping our original fabric worldwide.
Initially importing our printed fabric designs from overseas we began to look at our overall environmental impact and made the decision to switch to a European manufacturer and printer as well as changing our textile base to GOTS (Global Organic Textile Standard) Cotton elastane Jersey. Sustainability and the environment are important to us as people and as a business so in addition to lowering our carbon footprint with our textile manufacturing, we also now use paper recyclable mailing bags that can be reused or put into your general kerbside recycling box. We are constantly reassessing the impact we make on the environment and looking for ways to improve how we run our business.
All our fabric prints are designed by us and are exclusive to our brand. We spend a considerable amount of time and care over each design ensuring that it's original and offers our customers a unique print they won't find somewhere else.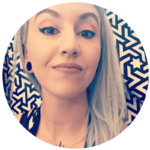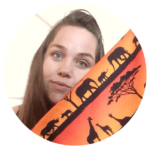 I'm a mother to 4 awesome kids. The things I probably love the most are coffee, cats, 90s metal and grunge music and wearing boots all year round. 
I like to focus on lines and angles as well as the geometry and symmetry of objects. You don't necessarily think of maths when you think of design but there is a stong mathematical foundation in most things I design. I enjoy finding these geometric patterns even in nature and try and translate that into my artwork.
After spending 1/3 of my life as a children's entertainer in Greater London I felt the need for a change of direction, so I combined my passion for sewing and my almost forgotten education at art collage and found a love for designing bright and fanciful fabric. Now I'm living by the beautiful Lincolnshire coast with my wonderful children. When I'm not working I can often be found listening to 90's music or watching Disney movies. I love to shop from small, independent businesses, and I've been a vegetarian for most of my life.